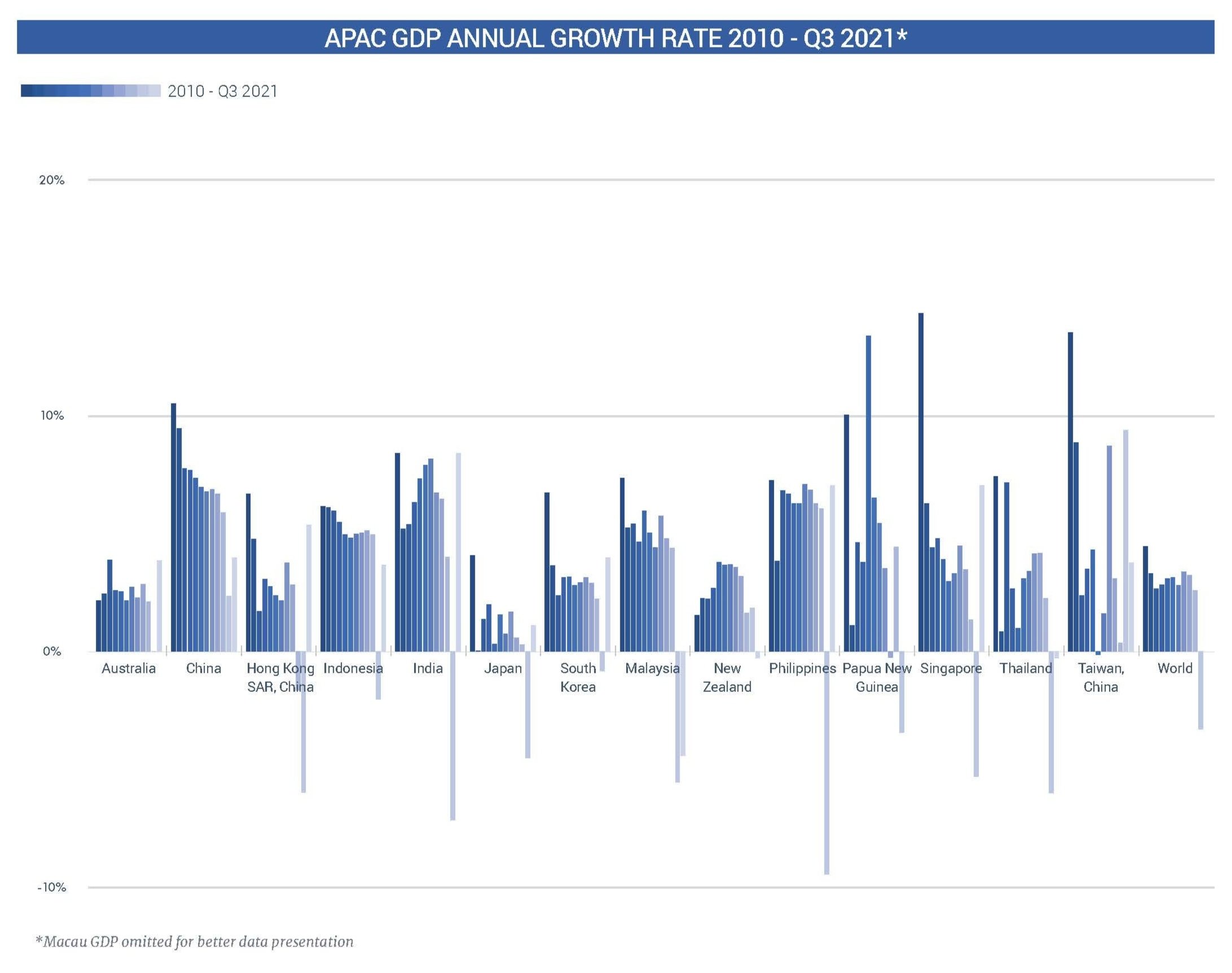 Mainland China
China's economy has remained steady since the introduction of ASQ, with its annual GDP growth never dipping below 5.9% until the onset of the coronavirus. As the first country affected, China moved swiftly to try and contain the virus, with measures including full scale city-wide lockdowns. This had an impact on the country's industrial output, as many factories and business were shuttered during the early part of the year. China ended 2020 in positive territory, with GDP growth reaching 2.3%. Although sporadic cases and lockdowns continued into 2021, for the full year China's economy was fully back up and running, with GDP growth reaching 8.1%.
Macau, China
Macau's economy can best be described as erratic, truly demonstrating how a country that is largely dependent on one source of revenue can immediately become unstuck if that revenue source is taken away. Macau's economy relies heavily on tourism, so when the coronavirus struck, Macau, much like everywhere else in the world, sealed off its borders. This caused Macau's GDP to drop in 2020 by 54% across the year. Although the full year data for 2021 wasn't available at the time of going to press, in Q3 the economy had grown by 34.4% when compared to the same quarter in the previous year. This was thanks to Macau opening its borders to China, allowing tourists to once again visit the city.
Japan
As the third largest economy in the world, Japan's economy since the first issue of ASQ suffered in 2020 and 2021, as most other economies did, because of coronavirus related lockdowns. Growth between 2015 and 2019 had been steady, ranging from 0.3% in 2019 to 1.6% in 2015.  Economic growth stalled during Japan's various states of emergency, partly due to lower economic output, but also due a decline in public spending, with 2020 full year GDP contracting by 4.6%. However, despite the challenges, Japan forecasts that its economy will expand by record levels in 2022.
India
India's economy has been slowing since 2016, although this has been exaggerated by the COVID-19 pandemic. From 8.3% growth in 2016, by 2019 India's growth had been cut in half to 4.0%. In 2020, due to the pandemic, India's economy had contracted by 7.3%. It's large population, which is the second highest in the world, remains 66% rural, and there are rising concerns about the gap between the rich and poor in the country. According to Business Insider, India has the third highest billionaire population, after the US and China. This gap between the rich and poor is especially noticeable in the working class, with India seen as having many informal workers. India is however one of the largest pharmaceutical drug manufacturers in the world, and over 50% of the world's COVID-19 vaccines have been manufactured in the country.
Australia
Australia's economy had been steadily growing before COVID-19 reached the country, with growth of between 2.9% to 2.1% between 2015 and 2019. However, in 2020 the economy contracted by 1.1%. The decline came mostly because of lower hosehold spending, driven mainly by economic uncertainty as major global economies starting to slow. Australia was one of the first countries around the world to effectively shut itself off at the start of the COVID-19 pandemic. As a result, visitor numbers ground to a halt, with the tourism sector severely hit.
South Korea
South Korea's economy saw yearly GDP growth between 2.2% and 3.6% between 2015 and 2019, however, growing global tensions of the trade war between the US and China saw South Korea's GDP growth slowing to 1.3% in 2019. South Korea was one of the earliest countries to suffer from a coronavirus outbreak, with the government imposing strict lockdowns early in 2020. This caused the economy to go into negative growth territory for the first time in more than 20 years. For 2020, the economy contracted by 1%, with many jobs in the service industry being axed, and consumer spending dropping off a cliff. However, South Korea's resilience saw the economy bounce back in 2021, despite ongoing pandemic related lockdowns. Although full year data for 2021 is not yet available, in Q3 the economy expanded by 0.3%, largely due to an increase in exports of consumer electronic goods.
Indonesia
Indonesia's economy grew by an average of around 4.9% each year between 2015 and 2019, the growth only being tempered by COVID-19, which was behind the economy's contraction in 2020. The early growth in GDP came largely after the country relaxed its rules around foreign direct investment. However, in 2020 the country's economy contracted by 2.1% – the first full year contraction since 1998. As with other Asia-Pacific countries, Indonesia's decline was a result of the COVID-19 pandemic, which was behind a drop in domestic consumption and slowing government spending.
Taiwan, China
Having bounced around between 1.3% to 3.3% growth between 2015 and 2019, Taiwan's economy expanded by 3.1% in 2020, and in doing so became one of the only Asia-Pacific countries to grow during the year. This was largely due to strong export figures, with Taiwan being one of only three countries or regions that did not see a drop in merchandise exports. The other two countries, mainland China and Vietnam, were also amongst the small group that saw their economies grow in 2020.
Thailand
With Thailand becoming an increasingly popular tourist destination in recent years, its economy began to rely more heavily on tourism income. In 2019 tourism accounted for 18% of the country's GDP, which helped the economy expand by 2.3% across the year. However, with the coronavirus came border closures and quarantines, and the economy slumped by 6.1% in 2020 – with tourism's share of GDP dropping from 18% to just 6%. Although 2021 full year figures were not available at the time of going to press, Thailand's economy was expected to grow by 1%, thanks in part to a return of strong export data.
Malaysia
GDP growth in Malaysia had been slowing since 2017, with growth declining to 4.4% in 2019. During the period Malaysia's political scene was in turmoil, with scandals rocking both the government and its sovereign wealth fund. This was further hampered by the arrival of the Coronavirus, which saw the country closing its borders early and managing to escape from major lockdowns until in late 2020. However, GDP dropped into negative territory anyway, with a decline of 5.7% for the full year. This was largely due to lower public spending and a fall in exports. Lockdowns continued into 2021, with the middle part of the year being badly affected. However, for the full year Malaysia is expected to have grown by 3 – 4%.
Philippines
The Philippines economy had been expanding by at least 6% every year between 2015 and 2019. At the same time, the country managed to reduce the percent of its population in poverty from 23.3% in 2015 to 16.6% by 2018. In 2020, the coronavirus abruptly stopped the country's economic growth, with strict lockdowns put in place, especially in Manila. This led the economy to contract by 9.6%, although it is expected to bounce back to between 5 – 5.5% growth in 2021.
Singapore
GDP growth in Singapore has been slowing since 2017, although this was hastened in 2020 by the arrival of the COVID-19 pandemic. The decline is largely attributed to the China – US trade war, which has had several indirect effects on the Singapore economy. Although Singapore is not widely seen as a manufacturing country, it does export electronics and chemicals to both the US and China. The market uncertainty around the trade war contributed Singapore's economic growth drop to just 1.4% in 2019, less than half of the 3.5% growth seen in 2018. The arrival of COVID-19 and the associated lockdowns and drop in exports caused the economy to contract by 5.4% in 2020.
Hong Kong, China
Hong Kong's economy had contracted before the arrival of the coronavirus in 2020. The country ended 2017 with a growth of 3.8%, however global uncertainty around the China – US trade war cut Hong Kong's growth down to 2.9% in 2018. Worse was to come in 2019, when political unrest began to stir in the city, which gradually became more violent throughout the year. This caused businesses to close early during scheduled demonstration. In 2019, Hong Kong's economy contracted by 1.9%. Much like elsewhere in Asia, when the coronavirus arrived the government acted swiftly, enacting lockdowns and border closures. In 2020 the economy contracted by 6.1%, however growth is expected to return to positive territory in 2021.
Data Source: World Bank & Trading Economics