Founded in 1991, North Dakota-based Spectrum Aeromed specializes in providing air medical and air ambulance interiors for rescue helicopters and fixed-wing aircraft.
Dedicated to saving lives, Spectrum Aeromed wants to be the number one provider of air ambulance equipment in the world. To achieve this, it provides a variety of solutions for helicopters and fixed-wing aircraft that can also be tailored technically and aesthetically to the customer. Thomas Redder, the company's VP of International Sales says that Spectrum Aeromed can customize aircraft based on different mission objectives, citing military medical evacuations, hospital transfers, and road accident evacuations. Altogether, Spectrum Aeromed has developed customized solutions for all segments of the global aviation industry including air charter services, private/VIP operators, emergency medical services, search and rescue operations, hospitals, corporations, and military and government programs.
When it comes to fixed-wing aircraft solutions, Spectrum Aeromed has several stretcher solutions. The 2800 stretcher is lightweight and can fit in both small and large aircraft. It is also flame retardant, with an adjustable backrest, thick foam pad, and expandable armrests to increase the patient's comfort, as well as allow the medical crew to better care for and access them. It comes with a unique seat rail adaptor as an additional feature, that can immediately help convert the aircraft into its emergency medical service configuration in about 15 minutes, without the need for any special tools. As such, the module makes it quicker and easier for medical personnel to serve those in need.
The 20/2200 module, otherwise known as the 'shortbox', is similar to the 2800 series. The one difference is that its flexibility ensures it is especially well-suited to being placed in smaller aircraft or aircraft with limited floor space. The stretcher is designed with tapered corners to allow it to fit through narrow doors or cabinets that hinder the amount it can turn when loading or unloading. Overall, both modules can also be installed either as a single stretcher or in a group configuration, depending on the interior space of the cabin.
Spectrum Aeromed has expertise in carbon fiber lightweight designs for customers that require heavy duty capabilities. The 5500 Module was designed for larger executive-style aircraft such as a Boeing or Airbus A320, and the 3200 Series Patient Transport Unit offers customers a custom module with many critical care capabilities. Spectrum Aeromed's specialty equipment includes manual and electric patient loading systems, medical equipment mounts, cabinets, equipment tables, an incubator transport system for caring for infants, IV poles and oxygen boxes. Unique to Spectrum Aeromed, the exclusively designed Medwall, Moveable Overhead and Stretcher Bridge were made for the direct mounting of auxiliary medical equipment to provide easy access and flexibility for medical crews.
With rotor and helicopter solutions, Spectrum Aeromed includes its Articulating Stretcher model. It can be pivoted from a full extension to a locked position. As such, aircraft crew and medical team members barely need to do any heavy lifting.
Spectrum Aeromed recently launched a new product called the Infinity 5000X. According to Redder it is; "designed for a more versatile operation so that it can be used for more applications." Unlike the 2800 and 20/2200 models, the Infinity 5000X boasts improved aesthetics, is easier to access for maintenance, is lighter in weight, and is built and designed for flight nurses and air medical teams specifically. The newly designed stretcher bridge allows better access to patients, especially when patients need to be carried on and off the stretcher. Even more convenient, additional options and accessories like a medwall, medical equipment mounts or an Infant Transport Deck can be added to the module. When it comes to future plans regarding this model, Redder says that Spectrum Aeromed is currently in the process of certificating the Pilatus PC-12 with the Federal Aviation Administration (FAA) to hold the new equipment, with hopes that this will be completed before the end of 2022.
One of the unique aspects of Spectrum Aeromed's modules is that the company is trying to give, according to Redder, "maximum compatibility." Whilst some customers may go for the cheapest solution possible and only buy a regular stretcher for an aircraft, Spectrum Aeromed's modules allow its medical systems to be upgraded at a later stage. As he explains, a customer might first choose a base, and then later add on accessories such as medical device mounts or an infant transport deck. Or as the program grows, they can add more ambulance modules that will fit with their existing equipment. This upgrade is possible as all most of Spectrum Aeromed's equipment is compatible with each other. This contrasts with other medical equipment manufacturers, which might be cheaper but cannot be changed without complications. And if a customer wants to keep their previous module? No worries – as Redder puts it, "you can also keep the old module as secondary equipment." This can benefit patients too, especially if both need to be transported using a stretcher but have different medical needs.
Aside from stretcher modules, the company further provides specialty medical equipment and accessories for certain specific missions. These include its Incubator Transport System (ITS) for whenever infants are on board, Patient Loaders to transport patients lying down onto smaller aircraft, as well as medical equipment mounts. This features defibrillators, monitors, oxygen, and other equipment needed to support a life support system. These mounts are also fully customizable, with Spectrum Aeromed working closely with medical teams to design a system best suited for the aircraft and mission. Furthermore, users do not need to worry when it comes to maintenance, as Spectrum Aeromed allows customers to request new parts through its website. Frequently requested parts that the company stocks include stretcher pads, IV poles, oxygen cylinders, and lap belts.
However, as an essential service provider, Spectrum Aeromed has no doubt been affected by the ongoing COVID-19 pandemic. As such, the company also includes the option of outfitting aircraft with a variety of containment and isolation units. These include ISOVAC Products' Containment and Protection System Utilizing Life Support (CAPSULS) Patient Isolation Units (PIU's), AirBoss Iso-Pod, and EpiGuards EpiShuttle. These units can be installed and removed within 30 minutes and can be used on most aircraft such as Airbus, Boeing, Learjet, King Air, the Agusta AW139, Bell429, and more.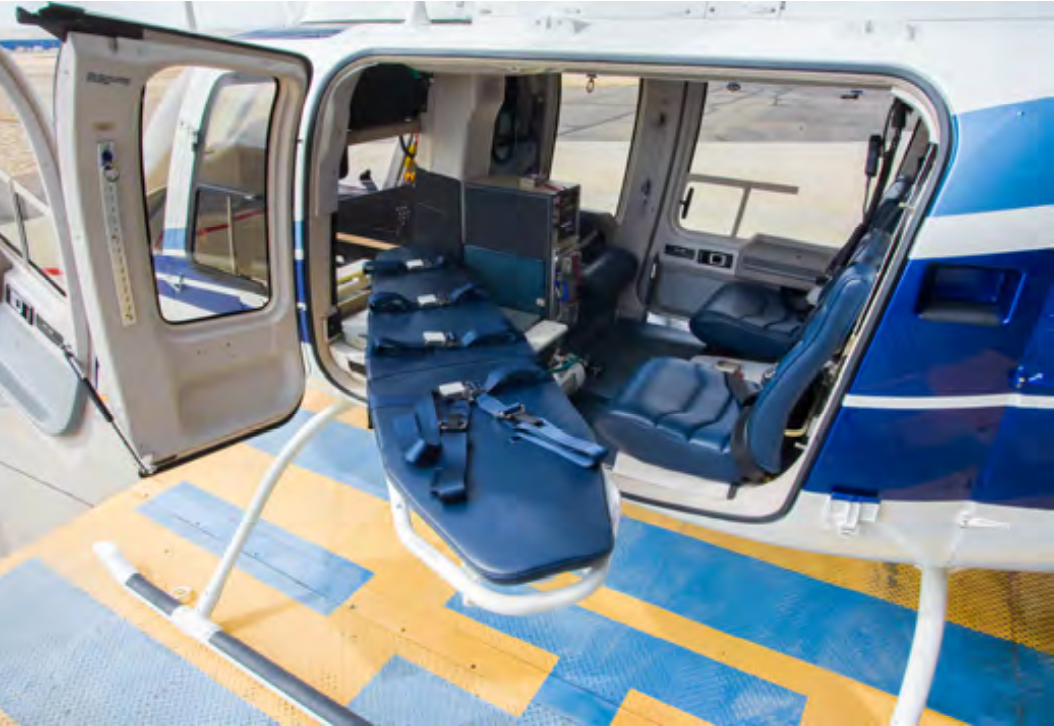 Redder admits that the past few years have, at times, been quite challenging. At the start of the pandemic, Spectrum Aeromed saw a spike in stretcher inquiries. As Redder explains, "everyone was saying that the only transport taking place in the near future would be patients flying from one hospital to another." However, with many airlines stopping operations due to quarantine and flight restrictions, many flyers pivoted to using old aircraft for private, VIP transport. "Nowadays, if you want to charter an airplane, most customers say 'I don't need a stretcher, because I can still use my old airplane for VIP transport," Redder says. Consequently, it has been somewhat difficult for Spectrum Aeromed to find aircraft that want to have medical equipment installed.
Fortunately, as Spectrum Aeromed sells its equipment internationally, the company can rely on various customers to balance its turnover. Redder cites the situation in Asia as an example – as of writing, travel in most places in the region is slow, especially in mainland China, which is starting to close up again according to its 'dynamic zero' policy. Nevertheless, with any downswing, there is an upswing – for example, Redder notes that the United States, in contrast, is opening up and doing well. "So that kind of worked out well for us," he says.
The quality level of the types of equipment Spectrum Aeromed sells also plays a factor in balancing its turnover. Redder cites India as an example. The company started out selling simple systems in the region, but over the last two or three years, after Spectrum Aeromed supplied customers with its intensive care units, the market is now pivoting towards buying more sophisticated solutions. "The general trend is that once you manage to sell products at a higher standard, you set a new benchmark, and that leads to additional business," says Redder. In light of this, there's no doubt that Spectrum will continue to follow this trend in the near future.
www.spectrum-aeromed.com